And in the rest of the world: Disasters
ONE of the reasons why Singapore is perhaps the safest place to live in is due to the low frequency of natural disasters resulting from our geographical location. Fortunately, we are being geographically encased by Borneo on one side and Malaysia on the other. Thus, any typhoon or tsunami activity will go through those locations first. By the time they reach Singapore, it's merely a tame tropical depression with great surf conditions.
Yet, our counterparts in the international community are not as lucky as us. Natural disasters often disrupt the life of the natives – damaging infrastructure, costing massive amounts of money to recover from the damage, causing a temporary halt to economic activities and worst of all, resulting in high death tolls and injuries. Here are some natural disasters around the world in the month of April:
Patrons of The Middle Ground enjoy priority access to our best stories. To become a patron, click here.
1. Lima, Peru – Flood and mudslides: Death toll continues to rise 
Floods and mudslides have been afflicting Peru since the start of the year. The death toll is currently at 113 as of 19 April. The heavy rains have been affecting the South American country all year round, causing rivers to reach high levels, forcing people to leave the place. An estimated million homes have been damaged and more than 2,500 kilometres of road have been destroyed.
In a latest update, the National Center for Emergency Operations said that the recent natural calamity is because of a climate phenomenon called "coastal El Nino".
CNN reported on March 20 that half a million people in and around the country's capital, Lima, have been affected by storms and flooding. President of Peru, Pedro Pablo Kuczynski has said the country will need some US$9 billion (S$12.5 billion) to rebuild and modernise the affected areas. He said: "We know it is a difficult situation, but we are controlling it, and we are hopeful that it will soon pass".
.
2. Naypyidaw, Myanmar – Cyclone Maarutha 
Image of Cyclone Maarutha churning above the Bay of Bengal captured by the Moderate Resolution Imaging Spectroradiometer (MODIS) on NASA's Terra satellite.
.
Cyclone Maarutha caused a storm to move over land on the Rakhine coast of Myanmar on the night of April 17. The landfall was first classified as a tropical depression on April 15 in the Bay of Bengal, according to Aljazeera.
Relief web reported: Three people were killed in Irrawaddy Division as Cyclone Maarutha made landfall on Arakan State's coast and swept through southern coastal Burma on Sunday (Apr 16).
The town Thandwe was swept by the cyclone with winds at 60km/h and steady, heavy rain. The cyclone continued but weakened as it passed the rugged terrain of the region. This cyclone is the first tropical cyclone in the northern hemisphere. This cyclone season usually leads up to the southwest monsoon.
.
3. Wellington, New Zealand – Double trouble Cyclone Debbie and Cyclone Cook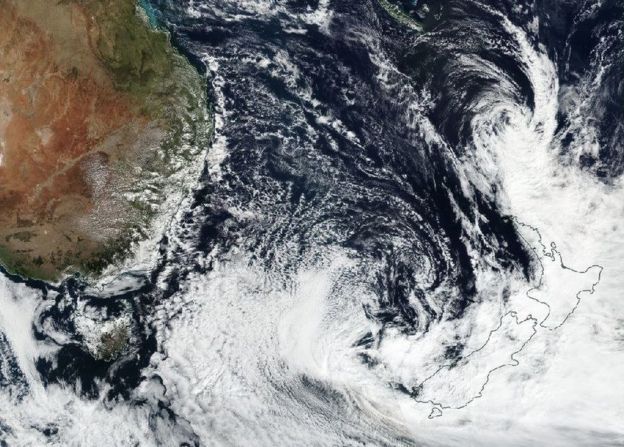 Image of Cyclone Cook sweeping through the South Pacific before approaching New Zealand taken by NASA.
.
April isn't a particularly good month for New Zealand as it was first hit by Cyclone Debbie and then Cyclone Cook.
In the first week of April, the tail-end of Cyclone Debbie devastated the Bay of Plenty town of Edgecumbe, forcing its 2,000 residents to flee with only a few minutes' warning. Although flooding eventually became less severe than anticipated, hundreds of trees have fallen, and police said many roads had been closed in the North Island. State of emergency was activated in Bay of Plenty and Thames-Coromandel, with the defence force assisting in moving residents to higher ground and keeping people away from the coast. Fortunately, there are no reported deaths due to Cyclone Debbie.
About a week later, New Zealand was hit by Cyclone Cook on April 13. It struck New Zealand with power outages, fallen trees and landslides reported around much of the central and eastern North Island, which bore the brunt of the storm. Forecasters feared that Cyclone Cook could be the worst storm to strike New Zealand since 1968. There is also no known deaths due to Cyclone Cook.
.
4. Manila, Philippines – Earthquake Swarm
Image of a Filipino villager walking past a tilted shanty at a coastal village in the earthquake-hit town of Taal, Batangas province, Philippines taken by Francis R. Malasig.
.
The Philippines was hit by an earthquake swarm, which is when a local area experiences sequences of many earthquakes striking in a relatively short period of time, on April 8.
Three quakes ranging in magnitude from 5.0 to 5.9 struck Batangas province, about 90 km (55 miles) south of Manila, around 3 p.m. (0700 GMT) over a period of about 20 minutes, said the U.S. Geological Survey. Hundreds of residents of coastal areas in a province south of the Philippine capital fled to higher ground fearing a tsunami on after a series of earthquakes on the main island of Luzon. However, the earthquake swarm was not powerful enough to cause a tsunami according to Head of the Philippine Institute of Volcanology and Seismology Dr Renato Solidum.
While there were no reports of casualties, power was cut off in some in some areas and cracks were reported in homes and some commercial buildings. Landslides were also reported in some towns and a portion of a Catholic church tower that had collapsed.
The Philippines sits on the Pacific "Ring of Fire," where earthquakes and volcanoes are common. An earthquake of magnitude 7.7 killed nearly 2,000 people on the northern island of Luzon in 1990.
Featured image by Sean Chong.
If you like this article, Like The Middle Ground's Facebook Page as well!
For breaking news, you can talk to us via email.
---
Leave Comments